Posted on 27 August 2018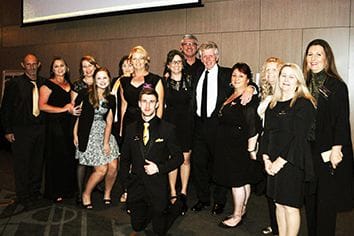 WHAT A NIGHT!

On Friday 24 August, we held the Black and Gold themed Thorndale Gala Fundraising Dinner.
Everyone who attended had a great time in a jam-packed night full of entertainment, games and auctions including Sydney's number 1 rated magicians The Black Ties, party cover band Planet Groove and loads more!
The purpose of the night was to promote funds for a much needed state of the art sensory room which aims to provide support for those who have learning difficulties, developmental disability or sensory impairments living in our community. Total funds raised have not yet been confirmed.

We would like to thank our sponsors Paynter Dixon, Kingswood Florist & Creative Balloons, The Black Ties and Afford for helping us towards achieving our goal and putting on such an amazing event.
We would also like to thank Mayor of Penrith, John Thain and his fellow councillors, all our volunteers and everyone who attended for your support; we hope you all enjoyed your night!

Photos from the event can be found on our media and video page.